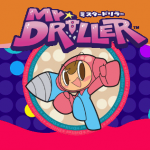 Mr. Driller [App Store] started as what was going to be the third game in the Dig Dug series, and even held the unofficial title of Dig Dug 3 by a few members of the Namco staff. Development of the game was eventually suspended, but later picked up again to be released to arcades as Mr. Driller. Since then there have been 8 different games in the series across 11 different platforms including arcades and mobile phones.
In the game, you play as a driller and drill your down clearing screens of blocks, collecting air tanks, and being sure to avoid the falling blocks that become loose after drilling supporting blocks below. When four blocks of the same color combine, they disappear, often creating a glorious chain reaction of countless blocks being eliminated from the screen.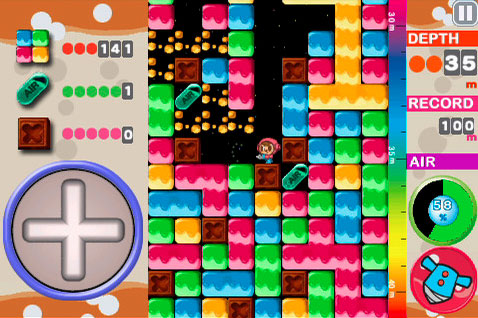 Three different control methods are included: Virtual D-Pad, swipe, and accelerometer. Each control method works exactly as you would expect. The virtual D-Pad obviously puts a D-Pad on screen to control your movement, with swipe enabled swiping in a direction moves your driller, and you can even move your driller by tilting with the accelerometer mode enabled. Also included in the options are four difficulty levels ranging from "easy" to "expert", and you can even change the amount of extra lives you start with from 1 to 5.
Namco published the following trailer to their YouTube page that shows all three included game modes:
In survival mode, you dig as deep as you can before you run out of extra lives or run out of air. In arcade mode, you can either choose a 500m or 1000m goal to shoot for, and time trial mode features 10 included levels that all have a twist to them with clocks that need to be picked up to increase the amount of time you have left.
Mr. Driller is a title I happily paid $30 for when it came out on the Nintendo DS a few years ago, and was just as glad to give another $10 when the port of the game hit XBOX Live Arcade last year. It was launched tonight for the iPhone at 99¢, which needless to say is an unbelievable price for a game released by a developer as big as Namco offering a fairly direct port of such a long-standing puzzle franchise. The iPhone version looks great, performs great, is just as fun as the other games in the series, and is an absolute steal at 99¢.
App Store Link: Mr. Driller, 99¢