The Iconfactory was launched back in 1996 as a repository for icon packs as well as software for creating and using icons. Since then, they've been responsible for the creation of two great iPhone apps, Frenzic [$2.99], a fast-paced puzzle game and Twitteriffic [$3.99 / Free], one of the original premium Twitter clients available on the App Store.
Their latest game, Ramp Champ [App Store] takes the arcade game of skee ball, shrinks it down to the iPhone screen, and applies the same thick layer of highly stylized graphical work seen in all the other Iconfactory products. Included in the initial release of Ramp Champ are four different virtual skee ball machines. Clown Town has a carnival theme, Breakwater Bay is underwater, Space Swarm tips its hat at Space Invaders, and The Icon Garden pays homage to Iconfactory's roots in icon design.
Controls are simple and shares the same strangely compelling gameplay as Paper Toss [Free]. Flicking your finger up from the bottom of the screen rolls a ball, and depending on how fast you flick and which direction you swipe towards controls the power and aim of your shots. All of the targets award different amounts of points, and after rolling all your balls the game dispenses virtual tickets that you can buy virtual prizes for.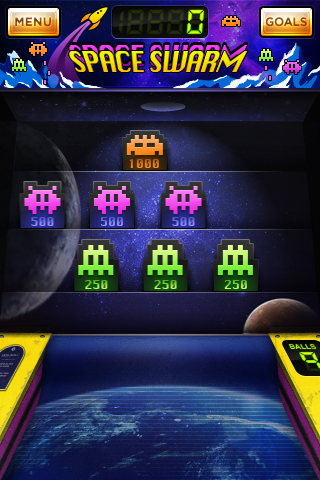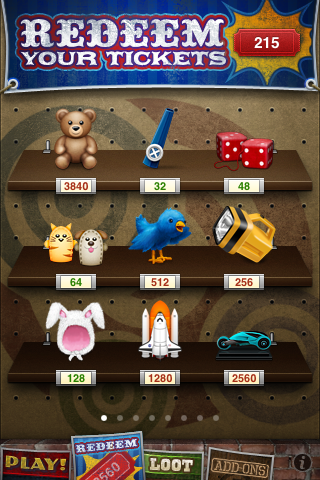 If you're old enough to have been around when arcades were popular, you likely have fond memories of dumping quarters in to skee ball machines, cramming your pockets full of tickets, and claiming some completely worthless reward from the prize counter. As the eventual owner of several of those terribly useless over-sized stuffed animals, Ramp Champ has provided an awesome amount of nostalgia. There's more to the game though as each of the four included machines also have their own sub-set of goals (achievements).
For instance, The Icon Garden's progressively harder goals are to plant all the pixel flowers, tip over the canine bovine, and score over 13,000 points. Planting the pixel flowers is as simple as hitting every target, I presume the canine bovine has something to do with Clarus the Dogcow, and scoring over 13,000 is self-explanatory. Completing all the goals requires a high amount of precision, and in my few days with the game I've been unable to complete more than a few of them. As a result, Ramp Champ has kept me coming back for more, since most goals seem simple at first (How hard can it be to hit 6 things with 10 balls?) but end up being much more difficult than they appear.
The Iconfactory is already offering two add-on packs that can be purchased for $0.99 a piece. Each pack contains 2 new ramps, 6 new goals, 18 new prizes, and shiny new trophies. . The videos below show the included levels on the left and the ones available via downloadable-content on the right:
If you loved Paper Toss [Free] or the included screenshots/videos are tickling your nostalgia bone, I recommend picking up Ramp Champ, as you will likely enjoy it as much as I have.
App Store Link: Ramp Champ, $1.99