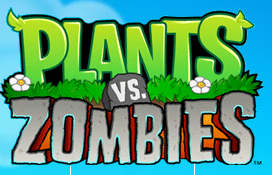 PopCap Games announced this morning that Plants vs. Zombies will be available on the App Store by the end of the year. Plants vs. Zombies is a tower defense game for the PC and Mac that has been well received by critics and so far has sold more copies since its release earlier this year alone than any other game PopCap has published.
In the game, players plant various types of plants to stop an army of zombies from reaching your house. As you survive through the different levels, you encounter new zombie types and unlock new seeds for your horticultural arsenal. Plants vs Zombies has the same cartoon art style seen in other PopCap games, and is dripping with charm as zombies equipped with pots for helmets and screen doors for shields are slowly dispatched by your pea shooters. There's even a Michael Jackson lookalike zombie that dances and raises other zombies.
The PC and Mac versions of the game also include an endless survival mode, a puzzle mode, and a set of mini games based on other PopCap titles. If they manage to pack all of these features in to the iPhone game, Plants vs. Zombies is going to be very hard to pass up.
Here is the trailer PopCap released for the computer game:
Plants vs. Zombies is a surprisingly fun game that seems to appeal to both casual gamers and tower defense nuts alike. If you've never heard of it, I highly recommend downloading the free trial from the PopCap site.