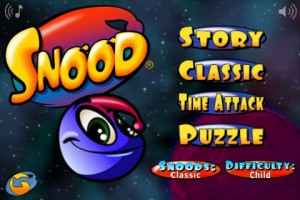 Snood has arrived for the iPhone tonight. We took an early look at the game just a few days ago, which offers a revamped version of the classic game. Some will find the gameplay familiar to other matching ball-shooters like Bust-a-Move, but Snood had its own following amongst Mac and PC gamers.
Snood for the iPhone preserves both the Classic gameplay with original graphics but also provide enhanced visuals as well as a number of new play modes. The game offers both single player and two player modes. Single player modes include Story, Classic, Time Attack and Puzzle modes across 5 different difficulty levels (child, easy, medium. hard, evil) and can be played with either the original or new graphic sets.
This video shows Classic and Puzzle modes using both the old and new graphics:
The game's goal is to eliminate all the Snoods from each level by matching them up in groups of 3 or more. Additional Snoods are fired onto the board with a canon at the bottom of the screen. Extra points are awarded for bank shots and chaining eliminations in sequence. iPhone controls allow you to touch on the screen to aim your canon with a button to fire. Controls work well, but like on the Mac/PC version it takes a little time to learn how to aim consistently.
The game makes heavy use of Facebook to offer online challenges, achievements and multi-player. Like many of our readers, I've never been a big fan of Facebook-integrated gaming as my Facebook world is very separate from my game playing world. While this integration for multiplayer makes some sense as a Facebook version of Snood is launching soon, even the single-player achievement system requires you to login.
For those who loved it, Snood was one of those time-sucking games that let you lose yourself for hours mindlessly firing away. While I don't think the iPhone version is necessarily going to draw in a new generation of gamers, it should please longtime fans of the franchise. For those on the fence or want just want to try out the game first, an online Facebook version of the same game will be launching very soon.
App Store Link: Snood, $3.99