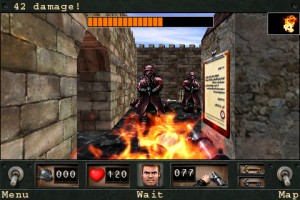 Wolfenstein RPG [App Store] for the iPhone is a strange conglomeration of the efforts of three App Store giants. Based on a J2ME game developed by Id Software, the game was ported to the iPhone by Firemint and finally published to the App Store by EA today. While the game had been ready since at least May it was held due to concerns about confusion with Wolfenstein 3D Classic.
In John Carmack's own words, "Firemint did a really good job on making [Wolfenstein RPG] up to iPhone quality levels," and so far I agree. Wolfenstein RPG is a turn based game, which makes it a lot more friendly for casual players, and a lot easier to play on devices like the iPhone where the inherent lack of precision from touch controls make twitch based games difficult.

Video by AppBank
Nine levels are included through various 3D environments with 2D sprites very similar to the original Wolfenstein. Along the way you will pick up different weapons, gold, powerups, and even encounter minigames with different interactive items. Initial impressions seem positive in our forums so far, and we'll post a full review once we have more time to spend with the game.
App Store Link: Wolfenstein RPG, $4.99