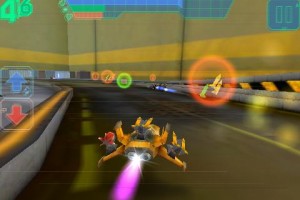 HeroCraft has announced their upcoming futuristic 3D racing game called Protoxide Racing. The game began development over a year ago. Final feature list planned includes:
5 different ships to choose from, ranging from the heavy tank-like to the light and fast bike-like
4 worlds of 4 racing tracks each, 16 tracks in a total
5 weapon types, pick-up bonuses like nitro or nuclear weapons
Quick race and career modes
Multiplayer over WiFi
Hall of fame, both local and online
3D stereo sound, cool music
Motion sensor controlled steering (or swipe controlled if you'd prefer)
The video is said to be from an early prototype, so elements will change by release. There have been a few similar competitors including Low Grav Racer [Lite] and Phaze [Lite] that have both received mixed reactions in our forums.
For some reason we seem to be drawn to these futuristic-racing titles, likely in an effort to relive Wipeout. We'll have to see if Protoxide can deliver.