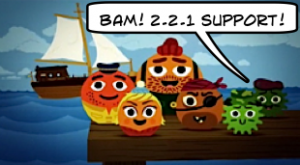 If you found yourself disappointed by the OS 3.0 requirement in ngmoco's Rolando 2 [App Store], you're in luck. Rolando 2 1.1 was just released, which includes full OS 2.2.1 compatibility as well as tweaks to the challenge system.
Rolando 2 saw a fantastic reception in our forum, and needless to say, we also had good things to say about it in our review:
All in all, we are really impressed with Rolando 2 which does justice to one of the few classic iPhone originals. Like the original, the art, style and music come together in a wonderfully immersive package. And with the addition of Plus+, you'll find yourself working to perfect your scores on individual levels in order to challenge your friends.
If you have an iPod Touch and have been holding off on picking up 3.0, but still wanted to play Rolando 2, now is the time to snag it from the App Store.
App Store Link: Rolando 2, $9.99