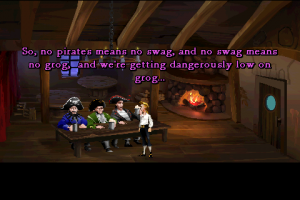 LucasArts' first entry in the Monkey Island series hit the App Store tonight [$7.99] completely re-imagined with new art, complete voice-overs, and a new live instrumental musical score. Originally released in 1990, and having seen several revisions following the initial release including a port to the Sega CD, this Special Edition of The Secret of Monkey Island [App Store] is the best version of the game we've seen yet.
The game features Guybrush Threepwood, who washes up on the island of Mêlée™ and has high hopes of becoming a pirate. After meeting the pirate leaders in the SCUMM tavern, you're faced with a set of three challenges that involve swordfighting, thievery, and treasure hunting. These goals serve as your initial quests as your adventure begins.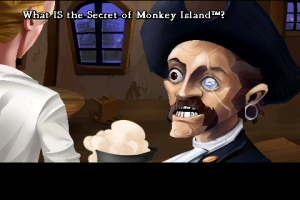 The graphics of this remake are wonderful and have a whimsical hand drawn look to them. The new voiceovers and music add a whole new level of immersion to the game and should give even veterans of the series something new to enjoy as all their favorite characters now have associated voice personalities. The touchscreen interface and the way the pointer works feels a little awkward and does take a little getting used to. Once you get the hang of moving it around and double tapping on things to perform actions the game becomes very workable.
The coolest part though? Swipe with two fingers across the screen and the new graphics and audio work fades away to the game's original graphics. This transition is instant, and you can switch back and forth at any point during the game: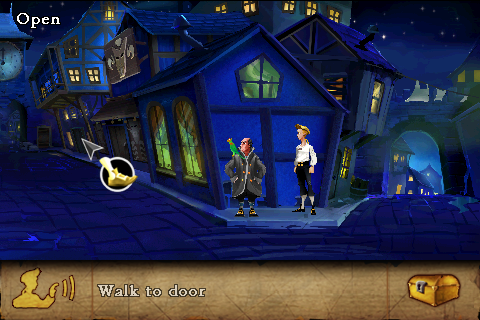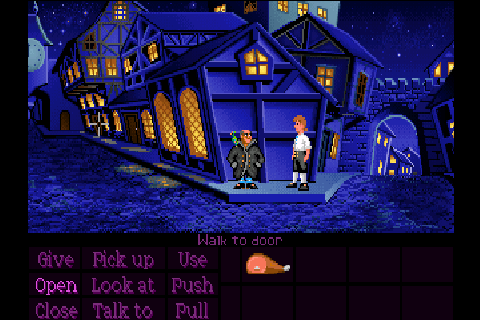 The entire game is an amazing package, and this same remake was also released for both the PC and XBOX Live earlier this month. Official reviews for those versions have been very positive. Here is an excerpt from the Team XBOX review:
If there was a PC Gaming Hall of Fame, The Secret of Monkey Island would be in it. It's a game that many of us grew up with and to this day refer to regularly. As much as that can be said for the original classic of 1990, The Secret of Monkey Island: Special Edition is a welcome addition to XBLA that will give fans an overwhelming sense of nostalgia, bringing them back simpler days in the gaming business, when games didn't have the multi-million dollar budgets as they do today and they didn't need high-profile marketing or fancy gimmicks to succeed. For long-time fans, it's a chance to relive a part of our childhood; for newcomers, it's a chance to experience what so many of us haven't stopped talking about for nearly 20 years. Do yourself a favor and download The Secret of Monkey Island: Special Edition (at the reasonable price of 800 Microsoft Points or about $10). Otherwise, you'll be wearing my sword like a shish-kebab!
So far we can echo those sentiments, except instead of downloading it from the XBOX Live Arcade for $10, iPhone users can grab it from the App Store for $7.99! Here is a brief gameplay video from the iPhone version:

[ Full HD version | Low Bandwidth version ]
The Secret of Monkey Island has stood the test of time, and the newly released Special Edition somehow manages to make this classic even better. Refreshingly, it appears that the iPhone version isn't a second class citizen to the Xbox and PC versions of the game. If you're interested in learning about what went into creating this Special Edition of the game, see this "making of" video.
App Store Link: The Secret of Monkey Island: Special Edition, $7.99