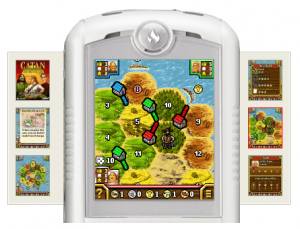 Move over Kolonists [App Store], the Catan Community & News section of the official web site just announced that Settlers of Catan is on its way to the App Store:
This summer the official version of the board game classic "The Settlers of Catan" will be released for Apple's iPhone. The game is being developed by Exozet Games in collaboration with Catan designer Klaus Teuber, and published by United Soft Media. More informations and screenshots will follow soon!
Now, doing a little research on Exozet Games lead me to Catan – The First Island on the developer's web site. All we know right now is what's in the news post from the official site. It could be a port of the mobile version, or something new entirely. Keep an eye on Touch Arcade for developments.