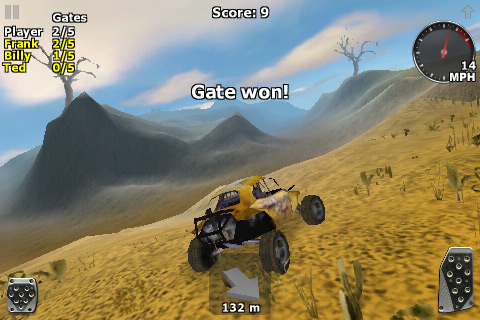 Off-road racing fans are in for a real treat in Invictus' new iPhone release 4×4 Jam [App Store].  The game appears to be a loose adaptation of the developer's 2001 off-road racing game 1nsane which, at the time, PC Gamer called "the best off-road game ever" and Gamespot called "the only 4×4 racing game to date that truly offers a sense of the freedom–and the chaos–found in real-life off-road racing."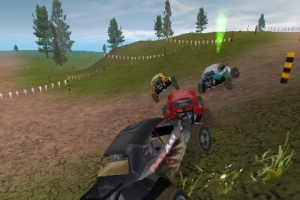 The stand-out feature of 4×4 Jam, and one that makes it unique among its App Store peers, is the fact that its terrain playfields are not closed routes, but provide total freedom to roam about — they are boundless.  Two such terrains are provided: a green European countryside and an American rock desert.  Three play modes are available across both terrains.  Jam is a race from gate to randomly-appearing gate across the vast game areas, in Off Road Race players (loosely) follow a dirt track to victory, and Free Ride offers a no-pressure opportunity to roam about the land.  There is no "career" mode, to speak of.
The game provides the choice of either a 4×4 truck or a Baja-style Beetle buggy to drive in each race type, with four different paint jobs for each.  There are three control modes to choose from: accelerometer steering with manual acceleration, accelerometer steering with auto acceleration, and touch steering with auto acceleration.  The options screen also provides the ability to tweak the display rendering for those wanting a framerate boost on slower iPhone platform devices (the game plays very smoothly on my 2G iPod touch test device).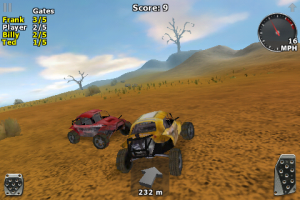 As a real fan of off-road racers, I find that 4×4 Jam delivers a very enjoyable game experience, thanks in particular to its spot-on vehicle physics and the ability it provides to cut my own track across the landscape and head off the other racers.  The game's free-roam mechanic really sets it apart from more traditional, track-based racers (even the game's Off Road Race feels rather unlike track-based games) — to such a degree that some gamers married to the track may find it a bit too "loose" for comfort.  The lack of career mode may also be a bit off-putting for some and the track and vehicle selection is a bit limited, and I do hope to see more in future updates.  But overall, my guess is that most off-road racer fans will find 4×4 Jam to deliver a highly enjoyable (and unique) game experience.  (So far, our forum readers are loving it.)
See the our video to see the game in action. The developer's game trailer can be seen here.

[ Full HD version | Low Bandwidth version ]
App Store Link: 4×4 Jam, $3.99