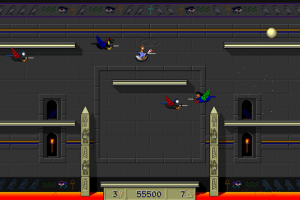 Both old Mac gamers and classic arcade gamers are going to be pleased to find out that the old Mac game Glypha has been ported to the iPhone.
Glypha was a Joust clone for the Mac originally written by John Calhoun years ago. The game code was released as open source and has been kindly ported to the iPhone by Kent Sutherland and released for free.
Gameplay is, of course, similar to Joust where you must joust with your enemies by colliding with them while retaining higher ground. An egg is dropped when an enemy is defeated and must be collected.
You are in control of a knight on a winged steed in an Egyptian temple, battling sphinxes through increasingly difficult levels. Gameplay is simple – you must fly and collide with enemy sphinxes with your lance above theirs.
This developer provided video shows the gameplay:
App Store Link: Glypha, Free