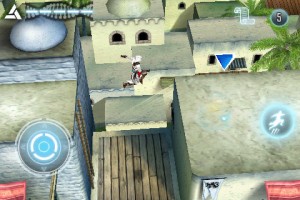 A few interesting lite versions of games we've covered in the past have appeared in the App Store in time for the July 4th weekend.
Assassin's Creed Free – There were some mixed initial reactions to this game due to memories of the DS version. But the game is technically impressive on the iPhone and the lite version is worth a try. The full version has also since dropped down to $4.99 from it's launch price of $9.99.
Siberian Strike Lite – A top-scrolling shooter also from Gameloft. The full version remains at only $0.99.
Ragdoll Blaster Lite – Here's a ragdoll physics game we really liked. The gameplay is simple, all you do is touch the screen and drag a crosshair to determine the direction and velocity you will shoot your little guy, and the physics engine handles the rest. Each level requires you to hit a certain target, and your goal is to hit it in as few shots as possible.