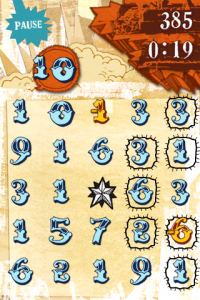 Another one of new games we previewed at WWDC arrived in the App Store last night: Big Top 10 [$0.99].
This number puzzle game is one I previously described as "Wurdle with numbers". In Big Top 10 you use the iPhone's touch screen to connect adjacent numbers in an effort to add up to a total 10. Longer chains offer you more time and more points. So, the better you are, the longer you can play. The game gets harder over time with higher valued numbers. If you find yourself stuck, you simply shake the iPhone for a new set of numbers.
Special items including bombs, clocks and multipliers to aid in your task while negative numbers make it possible to make super long combos.
Despite our constant desire for more massive gaming experiences, these sort of self-challenging puzzle games really seem to be the perfect type of game for the iPhone. Big Top 10 fits the bill with simple fun pick-up gameplay and unlimited replayability.
There is an ongoing discussion of the game in our forums with participation from the developer.
App Store Link: Big Top 10, $0.99.