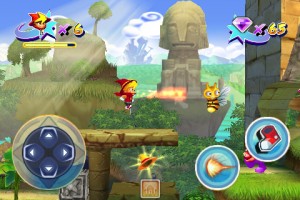 Gameloft has published a free Lite version of their impressive looking iPhone platformer Castle of Magic.
We looked at the full version of the game last week and found it to be a really solid title with nice level designs:
The game carries an overall polish and level of detail lacking in many other iPhone titles. The levels in particular seem very well designed with an attention to detail as well as secret areas to explore.
The Lite version of the game offers the first level of the first world to play. Overall, it's a very good sampling of the game and gives you a chance to explore the game using its virtual d-pad controls. I personally found the controls worked pretty as well as could be expected and didn't find it to be much of an impediment. The Lite version now gives every opportunity to try it our yourself.

[ Full HD version | Low Bandwidth version ]
Platformer fan or not, I'd suggest everyone give the free version of this game a try.
App Store Link: Castle of Magic FREE, Free, Castle of Magic, $5.99