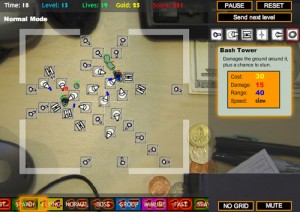 Flash version
TouchArcade met with Brian Robbins of Fuel Games to discuss their ongoing iPhones projects and games. Fuel Games is the development group behind Van's SK8: Pool Service and we've been told that there will be a Lite version of that game shortly. Brian also gave us a preview of their upcoming Lifeboat game which we will detail in a later article.
The other big news they had for iPhone gamers was that the massively popular Desktop Tower Defense flash game is coming to the iPhone.
Fuel Games is working closely with Paul Preece of Handdrawn Games to bring this classic to the iPhone. While iPhone-only gamers may have been introduced to the Tower Defense genre through Fieldrunners, for a large number of people Desktop Tower Defense was the game that brought it to the masses. From Wikipedia:
The game is played on a map resembling an office desktop. The player must stop a set number of enemies, known in the genre as "creeps," from reaching a set point on the playing field. This is accomplished by building and upgrading towers that shoot at, damage and kill the enemy creeps before they are able to reach their objective. Unlike many other tower defense games, the path of the creeps themselves is not set; instead, the towers built determine the path of the creeps, who take the shortest path they can find to the exit. The game prevents making an exit inaccessible.
Original creator Paul Preece is said to be taking an active role in the port and is working hard to stay true to the original game. Robbins stressed that the game has always been seen as a light hearted puzzle/strategy game, different from the more seriously themed action TD games that have followed.
The game will essentially be a port of the 1.5 version of the Flash game but will have updated graphics and other iPhone-specific features. Fans of the original should be reassured that a "Retro" mode will also be available to relive the original feel of the game. The iPhone version will also feature the original easy / medium / hard levels and eventually incorporate other modes of play.
The game is due later this summer. We'll provide more information and screenshots as we receive them. The Flash version of the game can still be played at HandDrawnGames.com.