This morning at WWDC we met with John Owens of the Belfast-based iPhone development studio Wee Man Studios to discuss their upcoming futuristic 3D racer Galactic Racer.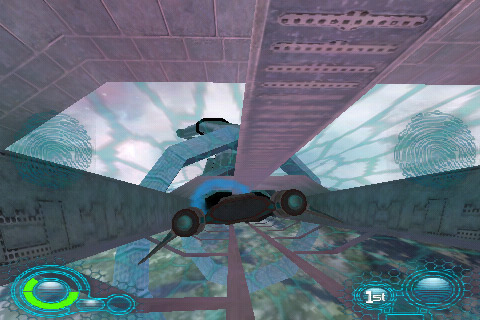 Galactic Racer is a Wipeout-like racing game that pits the player against a variety of adversaries in a high-speed run down a series of 3D tracks littered with obstacles and barriers, in a bid to make it across the finish line.  The experience is actually more akin to flying down a tube than hovering in an anti-gravity groove, with ship control available in all four directions.  Loops and other particularly "3D" twists, as well as sections of transparent walls, add a sense of depth to the feel of the courses.
Along the way, a variety of weapons and power-ups can be picked up to help fend off the competition.  The game's power-up items are more akin to those of Mario Kart than the typical Wipeout-style racer, Owens tells us — one example being a wormhole that can transport the player to a point further down the track.
The initial release will feature Championship and Single Race modes, while future updates will bring multiplayer, online leaderboards, and other enhancements.  Though we were unable to play the current build of the game, we were shown a short video and various screenshots that show promising gameplay and an impressive texture quality.  Wee Man Studios will shortly be releasing a public trailer video to giver readers a taste of the gameplay.
No release date has been indicated for this title.
Some of Owens' previous game development involvements include Argonaut Games' iNinja and Cat Woman for other platforms.