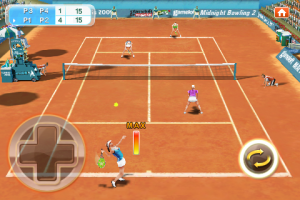 At E3 Expo, Gameloft also gave TouchArcade a hands on with their upcoming Real Tennis 2009 sports title that will be showing up in the App Store as early as next week.
Real Tennis will offer sports gaming fans another solid title from Gameloft as it seems to offer the same level of depth that we've come to expect from Gameloft's sports titles such as Let's Golf and Real Soccer 2009. The app combines accelerometer, joypad, and even gesture controls to the game of tennis.
The basic controls worked intuitively, with movement controlled by the on-screen joypad and swinging with a virtual button. When serving, the accelerometer is used to target your serve. Specific gestures with the button are said to invoke different types of strokes, but I didn't get a chance able to master it in my brief time with the game. You can play as one of 8 different fictional players with different attributes. Different locations offer different surfaces which affect how the ball plays.
The official list of features includes:
8 players entirely modeled in highly detailed 3D graphics.
From Paris to New York or Stockholm, play in 7 stadiums on 3 different surfaces – clay, grass and synthetic – each providing a different experience.
Local Wi-Fi Multiplayer to challenge your friends in real time!
Controls making the most of the iPhone/iPod touch features
Serve by tilting your iPhone!
A wide array of strokes for a deeper experience: Lob, drop shot,
smash and more.
A Career mode that lets you join a tennis tour just like a real professional player.
Gameloft's video shows how the game looks, while we have a hands-on video that we will post shortly.
The game is expected as early as next week and will be priced at $5.99.