Donut Games has released an iPhone Arkanoid-alike known as Bricks of Camelot [link] through the App Store.  And while there's no lack of such titles on the platform, Bricks of Camelot is a a particularly well-done take on the formula.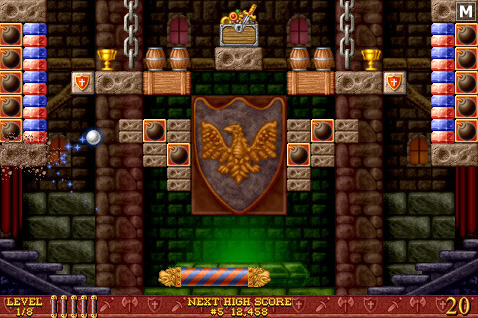 Experience the EPIC ADVENTURES of CAMELOT in this action packed brick buster with a heavy artillery of power-ups. Collect treasures, armour and gold as you smash your way through the King's Castles, the dark dungeons and lots of exciting places.
Features listed by the developer:
Mystical medieval environments
48 Levels (additional levels to come in the next update)
Smash bricks in non-traditional ways, including axes and thunder lightnings
Magic potions
Eagles that hunt treasures for you
3 Difficulty settings
Indeed, the game features an unconventional array of power-ups that are well suited to the game's medieval theming (explosions of fire that burn wooden bricks, axe attacks that take out surrounding bricks, etc.).  The fit and finish of the title brings to mind some of the well-done games in this genre published for the Amiga in the early '90s.
At $.99 (limited time), it's a solid value, but a free, lite version [App Store] is available for those wanting to try before they buy.
See a gameplay video of the PC original that's nearly identical to the iPhone release.
App Store Link: Bricks of Camelot, $.99 (limited time)