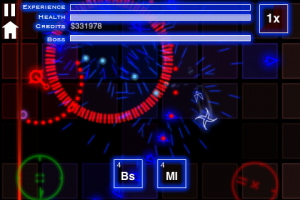 Ok, it's sort of a cop-out to call a 'Lite' version a "must get", but I have good reason:
1) Isotope Lite has more gameplay than most full versions
2) The full version of Isotope isn't yet available.
The App Store has recently been swarmed by a number of Geometry Wars-alikes. These are retro-themed space shooters with multi-directional shooting and swarms of enemies. We've even highlighted a few of them. Most of these games, however, have had some nagging issues that kept them from being great. Too few weapons, too little content, uncomfortable controls, etc…
In contrast, Isotope seems to have enough content and challenge to keep you busy for some time. The Lite version of the game which was released tonight has a feature-complete survival mode with online leaderboards. It also contains a limited campaign mode which acts as a tutorial and also provides about 5 levels of play. In contrast, the full version has over 30 missions as well as a significantly more exhaustive upgrade system.
The game employs a store upgrade system to purchase new ships, weapons and capabilities. Money is earned through combat (either in Survival or Campaign modes) and can be spent on these upgrades. The different ships come with difficult capabilities and can be stored for use at any time.
The game also offers every type of control-system you might want in a multi-directional shooter. The default controls worked best for me with dual analog sticks with auto-centering. This means that you can tap anywhere on the screen and that serves as center point (like DropShip). You also have the option of fixed dpads (like iDracula) as well as accelerometer control (like 2079) and tap-targeting (like Belowscape). The only possible option I didn't see is being able to swap the movement and firing pads (though you could play it upside down).
[ Full HD version | Low Bandwidth version ]
You can check out the video, or just go ahead and download it since it's free. The full version of the game is expected at the end of next week and will be priced at $2.99.
App Store Link: Isotope Lite, Free