Early this month we previewed CobraMobile's upcoming top-down shooter Bombs Away.  The game has just hit the App Store — after a name change — as iBomber [link].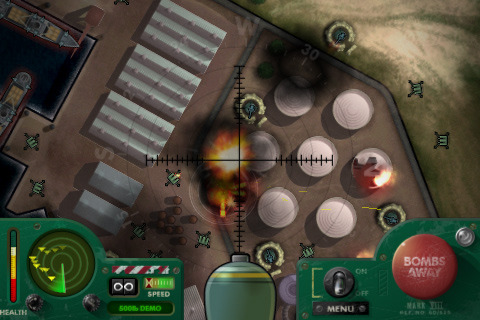 iBomber is a totally unique top down arcade styled bombing game based in the Pacific Ocean of 1943. You play iBomber as a young bomber pilot protecting your fleet and searching out key enemy land and sea targets to destroy!!! iBomber will immediately transport you into the thick of the action with the games multiple missions providing a huge variety of gameplay.
Features listed by the developer:
12 action packed missions
Super smooth game-play
Amazingly detailed graphics
Multiple bomb types and pick-ups
Amazing audio and 3D spatial sound
The satisfaction of blowing everything up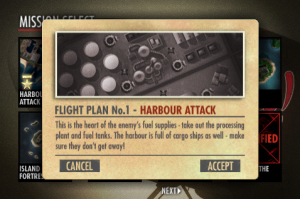 iBomber is a tilt-controlled game in which you play a WWII bombardier in the Pacific, bent on laying waste to as many land and sea targets as possible.  The playscreen is your downward view from your aircraft's bomb bay doors, complete with targetting crosshairs and a radar scope.  Maneuver the plane via tilt, line up the target, and it's bombs away.  It's really a more challenging proposition that one might think in just looking at the video, given the need to take the movement of the bomber and, in the case of aircraft or ships, the targets into account in landing a hit.
A number of different bomb types can be picked up during combat — Blockbuster, Rocket Bomb, Grand Slam — that each deliver a different type of damage to the enemies. There are 12 levels in all (nine of which are locked initially), each offering a particular mission to complete.
The game has a highly polished feel, with very well done graphics and animation, a sentiment that has been echoed in our forums.  Very nice, visually.  Thanks to the aforementioned challenge posed by the game, playtime needed to complete every mission should be fairly significant.  But practice makes perfect, and destruction fans should enjoy the carnage that comes with learned skill at the crosshairs.
See the developer's gameplay video.
App Store Link: iBomber, $2.99