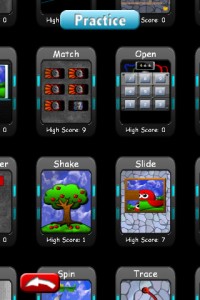 Team Phobic's latest release Micro Mayhem [App Store] burst into the App Store just last week and offers a fast-paced Wario Ware-like collection of micro games.
Micro Mayhem offers 25 different mini-games and only a short amount of time to complete each one. Successfully complete a game and you are quickly shuffled off into the next. You are given 3 chances before it's game over. Goal of the game is to reach the highest score possible before your chances run out.
The game can be played in "Normal", "Practice" and "Party" modes. The first two modes are self explanatory, while Party mode lets you pass the game around to your friends in turn to see who can get the highest score.
The developer video gives a great overview of what to expect:
For only $0.99, Micro Mayhem offers some fast paced fun.
App Store Link: Micro Mayhem, $0.99