Archers, Catapults and Dragons, Oh My!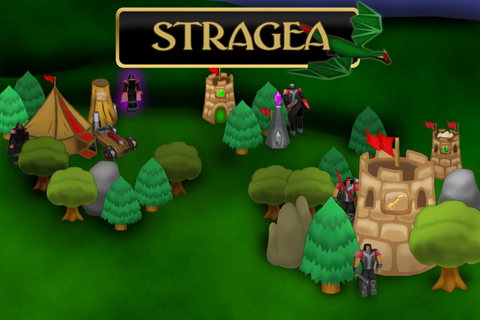 Solus Games sent us a heads up concerning its upcoming 3D real time strategy game Stragea, in the vein of Warcraft and Total Annihilation.
Solus Games is proud to release Stragea, the first and only 3D real-time strategy game for iPhone and iPod Touch. Stragea features a classic cast of medieval 3D warriors that are like figures come to life. You are the mighty Archon who must lead the Red Cloth to victory in the Battle for Rohan over the Blue Vain and Yellow Wood Clans. Build and defend your base with static and mobile defenses, but when the time is right mobilize your army to defeat your rivals. Whether you are a hardcore RTS fan or simply want something more than just another tower defense game, this is the game for you. See if you can balance defense, production, upgrades, and offense to defeat your enemies and win the battle of Rohan!
Features listed by the developer:
High-performance 3D graphics

Intuitive and fluid controls and gameplay

Challenging enemy AI

8 Campaign missions with 3 difficulty setting for a total of 24 Campaign Levels

Battle Mode with 1v1 and 1v2, 3 selectable maps, and Fog Of War visibility settings
See the developer's preview video.

Stragea will be submitted to the App Store in the next day or two and will hopefully be available for download within a week. Solus has not specified a price, as yet.