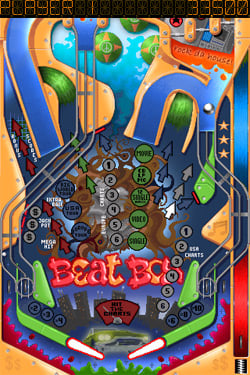 One of our favorite pinball games for the iPhone is Pinball Dreaming: Pinball Dreams [App Store], Cowboy Rodeo's iPhone remake of Digital Illusions' classic Amiga pinball game Pinball Dreams.
Pinball Dreams was an extremely well received game when it debuted on the Amiga back in 1992.  It took full advantage of the Amiga's (then) powerful graphics hardware and offered a realism and playability rarely–if ever–seen before in a computer-based pinball game.
We're pleased to report that Cowboy Rodeo has released Pinball Dreaming: Pinball Dreams Lite [App Store], a free version of the game that features only the Beat Box table (one of the four tables in the original) and a limit of one ball per game.
The original, paid app, which we reviewed back in February, was extremely well received in our forums and represents an excellent App Store value.  Hopefully anyone who hasn't already made the jump will spend some time with Pinball Dreaming: Pinball Dreams Lite to see what they've been missing.
See our video of the original App Store release.

[ Full HD version | Low Bandwidth version ]
It's been confirmed that Pinball Fantasies, the sequel to Pinball Dreams, is in the works and expected to appear sometime in the Spring.
App Store Link: Pinball Dreaming: Pinball Dreams Lite, Free, Pinball Dreaming: Pinball Dreams, $4.99