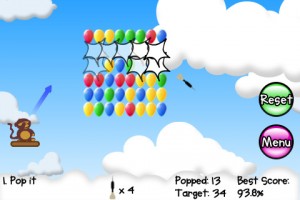 In the ongoing flood of games, one that we've neglected to report on is the port of the very popular Bloons flash game. The iPhone version was released in April and has managed to shoot to the top 10 list of paid apps during that time.
Bloons is a seemingly simple trajectory game in which you must pop as many balloons as possible using a limited number of darts and other power ups. To successfully solve level, you need to pop a pre-determined quota of balloons.
The iPhone version of Bloons contains 50 levels as well as bonus "hidden" content that can be unlocked. A major update to the game is also coming with 50 more exclusive levels, unlimited darts mode and a level editor. While there are a number of similar games available in the App Store, this is the one you probably played on the web. The online version is still available to try.
The game debuted at a $2.99 price but has since dropped to $0.99 while the update is pending.
App Store Link: Bloons, $0.99