While at the iPhone Developers Union party at GDC 2009 I had a lengthy and pleasant conversation with Steph Thirion, author of the highly innovative, multitouch puzzle game Eliss.  During the conversation, Steph conveyed to me his concern about the game's difficulty.  He was hearing that, while some people were moving from level to level just fine, others were having extreme difficulty getting past the first few levels.  It was a situation that was concerning him.  An update would soon help the situation out, he told me.
Today, Steph's update, Eliss v1.1 [link], went live in the App Store and the price dropped a dollar to $2.99.
Details of the v1.1 update:
Sectors increase from 20 to 25. Difficulty curve is now gentler, and learning pacing has been improved. (Please go to www.toucheliss.com/update1 for more details.)
Suns entering the game can be spotted earlier.
The special ending sector is now directly accessible (after unlock).
Various interface improvements, including a new how-to page.
Added compatibility with iPhone OS 2.2.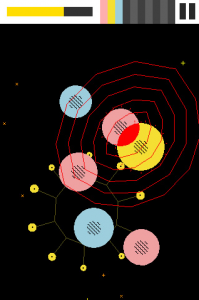 Steph made a blog post that goes into detail regarding his concerns about the game's difficulty.  (If you're a fan of the game, it's worth a read.)
If you have tried Eliss, you know it's challenging. It's fast and precise, and you need to put a good deal of concentration into it. I wanted to make a game that you'd feel proud of progressing into. So when reviews and comments started popping over the internet, the challenge was a frequent topic. And while some people appreciated it, others seemed really bothered by it. But that didn't worry me too much. I thought that it had to do with multitouch still being very new to players, and also with the fact that we're kind of getting used to be babysitted through games, and Eliss doesn't do that. So I thought people had rushed into their own conclusions without really trying. But then I saw that some folks were putting my head for a price on internet. And I got some hate mails. And I was asked some funny questions like: "Did you actually finish your game?"
…
Anyway, the problem with the original version of Eliss, was that it roughly showed the basics, and then it took the clueless players on a chopper and parachuted them right into the heart of the action. I wanted to avoid babysitting players through the game, and it resulted in the other extreme. Players needed a better training.
Eliss was nominated for the Innovation in Game Design award at the IGF Mobile 2009 game competition.  We took a look at the title back in March and found it to be, difficulty aside, a perfect game for the iPhone platform.  It's certainly one of my personal favorites.  We feel it's a game worth a spot in every iPhone gamer's library, and this update should certainly broaden its appeal.
See the developer's gameplay video for a closer look.
App Store Link: Eliss v1.1, $2.99