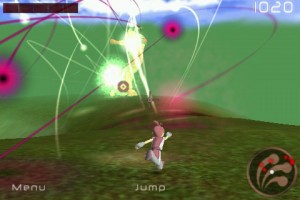 Independent developer Elecorn's third person shooter Caster has made its appearance on the App Store. The game comes with both a full version [$4.99] and a lite version [Free].
The game has been a project of his since college and has taken him just over five years to release. It finally came out in January of this year for PC and Mac and seems to have gotten positive reviews.
Caster involves running, jumping and shooting your way around the environments while collecting energy balls and destroying enemies. The game includes deformable landscapes as well as an upgrade system for movement and weapons.
Features listed by the developer include:
Use Natural and Intuitive Controls!
Listen to Pulse Pounding Music by Trance Emerson (www.tranceemerson.com)
Dash across 15 Scenic Landscapes!
Destroy enemy Flanx and cause Massive Terrain Deformation using 6 Unique Attacks!
Heal the infected land and Bring Trees Back to Life!
Upgrade your abilities to become an ALL POWERFUL HARBINGER OF LIFE AND DESTRUCTION.
Play at 3 difficulty levels, Casual, Normal, and EXTREME!
This developer gameplay video shows the action and controls:
With a free lite version available, there's no reason not to try this impressive looking title.
Update: First impressions from TouchArcade's Big Albie:
When I look at Caster, I can't believe that one independent developer accomplished all this. Caster is the epitome of what a 3D game with full 360 degree movement should be on a mobile device. From the visuals to the controls, this game is spot on, and you'll find the gameplay requires every bit of your strategic prowess.
App Store Link: Caster, $4.99, Caster Lite, Free