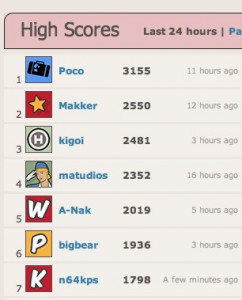 Don't look at the all time Flight Control leaderboards if you want to keep thinking you're an great Flight Control player. The highest recorded score is 3155 planes landed in a single session.
Yes, Flight Control's 1.1 version update went live yesterday and now offers CloudCell integrated online leaderboards. Flight Control is, of course, Firemint's massively popular flight time-management game that remains one of our favorite iPhone games.
Aside from the global scores, the update also provide a save/resume feature and some minor bug fixes. Firemint will follow with additional updates that add new airports and aircraft to the mix.
Meanwhile, the team at Firemint has publicly released sales numbers for Flight Control after it's first month and a half on sale. Firemint had committed to releasing numbers well before they knew what a huge success the game would be.
A summary of results is provided here:
Sales during the report period: 587,485
Sales to date (6 March to 27 April): over 700,000
Graph of global sales per day
Total sales per country (57% of sales in USA)
Peak sales days (over 35,000 sold on best day) and sales trends over time
Highest daily sales per country (19,164 in the USA)
And a detailed PDF can be downloaded from their blog entry.
App Store Link: Flight Control, $0.99