Freeverse adds yet another title to their successful iPhone lineup with Flick NBA Basketball [App Store]. While Flick NBA Basketball may actually be one of the most immersive iPhone sports game out there due to an excellent use of 3D graphics and sound, it may not fulfill the depth that most gamers are looking for in a $4.99 iPhone title.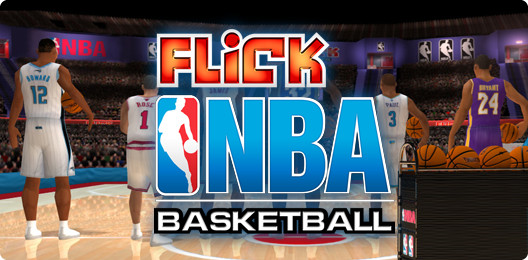 Flick NBA Basketball comes with over two dozen basketball players, representing every team in the league who can be use to play the following events:
3 Point Shootout
Hotshot Arcade
Long Range Challenge
H.O.R.S.E.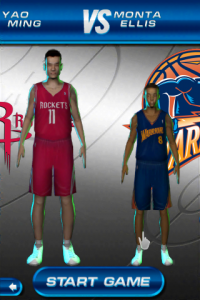 Also included is a mini-game where you spin a basketball on a virtual finger. All of the included games make good use of touch controls, and the finger in the ball spinning mini-game is also controlled using the accelerometer. Flick NBA Basketball can be played against an AI opponent or against another player using the same device and taking turns.
One thing to be aware of is Flick NBA Basketball is a skill challenge game, and not a complete basketball game. (EA holds the rights to a full NBA game, and currently has EA Sports NBA Live in development for 2009.) Despite this limitation, Freeverse has really pulled out all the stops when it comes to presentation.
The player models are some of the best that we've seen on the iPhone, and while the basketball court is rendered with amazing detail complete with reflections, the thing that shines the most in Flick NBA Basketball is the sound design.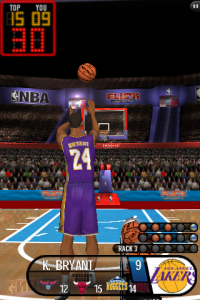 Sound effects and music often seem to be completely overlooked on the iPhone, but playing this game with headphones on will have you feeling like you're sitting courtside in a real basketball game. The crowd cheers, chants, and even stomps to the beat of Queen's "We Will Rock You." The announcer, while cheesy at times, also adds to the excitement of the game.
For such a simple iPhone game, Flick NBA Basketball feels remarkably alive and fits perfectly in Freeverse's Flick sports lineup aimed at providing bite sized gaming experiences, only this time not at a bite sized price. At the initial offering of $4.99, Flick NBA Basketball is the most expensive Flick sports title. If it were priced in line with the other Flick games, this would be a must-buy.

[ Full HD version | Low Bandwidth version ]
Unfortunately, at five times the price, it's hard to say whether or not being able to play as a real NBA player is worth the premium especially considering the NBA licensing adds so little to the game.
Big Albie had a similar initial impression and expands on this more in his detailed overview on our forums.
App Store Link: Flick NBA Basketball, $4.99