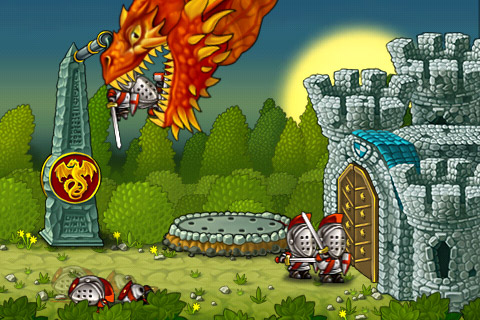 Screenshot from Knights Onrush
The #1 game in the App Store right now is a $0.99 game called StickWars [App Store] which appears to be a clone of a popular online Flash game called Defend Your Castle by XGen Studios. XGen claims they are the originators of this "Castle Defense" genre which has spawned a number of clones. Meanwhile, XGen has since released their own iPhone version of Defend Your Castle [App Store, $1.99].
Both games have similar gameplay which involves defending your castle from stick-figure enemies by simply flicking them into the air so they fall to their demise. Each game also has an upgrade system with enhanced weapons if you manage to sit through some repetitive gameplay for long enough. You can familiarize yourself with these gameplay videos: Defend Your Castle, StickWars and web-playable Flash game: Defend Your Castle.
Caught up? Well, Chillingo and MoreGames Entertainment have released a new gameplay video for their upcoming Knights Onrush game. MoreGames is also the developer behind iDracula and Origins: Legend of Wizards. Knights Onrush appears to be a version of this Castle Defense genre but with much better graphics and a (seemingly) wider variety of ways to destroy your attackers.
Thankfully gone are the stick-figure drawings and instead are nicely drawn Knight attackers, dragons and explosions. See their trailer for more details:
While only a brief bit is shown, I'm hopeful the game will provide a little more depth to these types of games. There may be also some crossover appeal with fans of Pocket God who could find this to be another outlet for their "unkind" tendencies.
The game is expected in May.