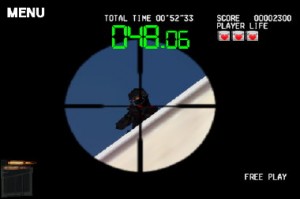 Konami's arcade classic Silent Scope has arrived on the iPhone and iPod Touch [App Store].
The $5.99 game brings the original 1999 arcade sniper game to the iPhone. The game puts you in the role of the world's top sniper who is trying to rescue the President and first family from terrorists. The game includes 9 stages and 2 gameplay modes: Arcade and Training. Arcade features Story, Shooting Range and Time Attack.
The game is as expected — a tap to shoot game. The sniper mechanism involves double tapping on the screen to activate your scope and single tap to fire. Dragging your finger on the screen moves your scope to find additional enemies. Konami has also added the ability to aim more precisely aim by holding one finger down while swiping. This moves your scope slowly so you can line up your enemies.
This gameplay video shows a couple of the stages:
While the stationary sniping seems to works fine, the "boss" stages seem very difficult using the swipe to aim mechanism. As you can see in the video, your ability to target a moving enemy while in motion can be very difficult — at least in our early testing. Other first impressions from our forums echo similar sentiments.
App Store Link: Silent Scope, $5.99