Firemint has today announced details of coming updates to its charming little airspace management game, Flight Control [App Store, $0.99].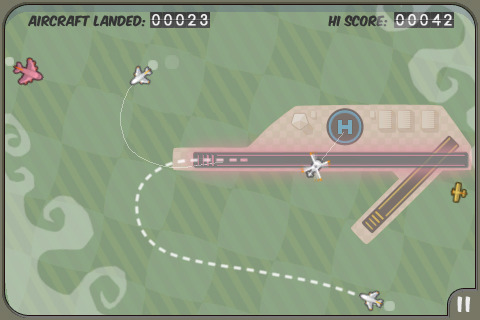 The first update, which should appear in the App Store by April 24, will bring:
Online highscores – by far the most requested feature, Flight Control will receive online leaderboards with a simple but clever design, to cater for many of the different ways people are playing. Firemint will use its cloudcell.com technology to go beyond a simple list of names and high scores and offer location based leaderboards and a skill based ranking system. Cloudcell.com has already been used in I-Play's Fast & Furious game and will also be used in Firemint's upcoming title Firemint Real Racing.
Save game – if the app exits mid-game (for example, closing with the Home button or receiving a phone call) the player will be able to pick up exactly where they left off.
Firemint will follow with additional updates that add new airports and aircraft to the mix.
We took a look at Flight Control shortly after it's release and found it to be an incredibly fun game offering easy, pick-up gameplay that's hard to put down.  It remains one of our all time favorite iPhone games.
Flight Control is currently the #1 paid app in the iTunes App Store and Firemint CEO Robert Murray indicates the company has no intention of letting the game fade.
As long as people keep buying the game and loving it, we will keep supporting it. We're putting in place a framework that will allow us to add new content more quickly in the future.
Flight Control is one not to be missed.
App Store Link: Flight Control, $0.99