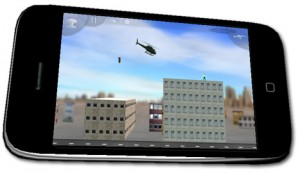 Majic Jungle Software has just released Chopper Lite [App Store], a limited, free version of their paid app Chopper [App Store], which itself is at a limited time, 80% off price of $0.99.
Frampton's Chopper was inspired by the the classic game Choplifter from the 80's. In Chopper, players guide an accelerometer-controlled helicopter to complete missions which involve rescuing civilians while fighting off tanks and bazooka wielding men.  While the paid app features 20 levels across four different difficulty settings, Chopper Lite includes the first five levels, payable at the two easiest difficulty settings only.
Chopper was one of the early App Store sucess stories and is part of Majic Jungle's 5 Fingers Games Bundle [App Store] (five games from five developers for $4.99).
App Store Link: Chopper Lite, Free, Chopper, $0.99 (sale)