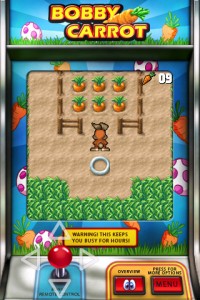 FDG Entertainment, the developers of Bobby Classic Forever, have released the first in a series of "classic" Bobby Carrot puzzle games to the iPhone.
Bobby Carrot 1 CLSX [App Store] delivers the original Bobby Carrot mobile title to the iPhone which started off in 2004 as a J2ME puzzle game. This first installment delivers 55 levels across two different gameplay modes: Carrot mode and Easter egg mode.
Accompany the riddling rabbit through 55 cleverly constructed levels. Collect all the of carrots on a level, or lay all the Easter eggs in the special nests in order to open up the exit to the next level. This task isn't made too easy for you, since there are numerous obstacles and traps to block your way.
While the graphics are the same as the original version, the soundtrack has been updated for the iPhone port. FDG has also incorporated Swipe controls, allowing you to forgo the on-screen joystick and simply swipe anywhere on the screen.
The levels aren't perhaps as complicated as Bobby Carrot Forever but at only $0.99 could offer new players a good introduction to the series.
App Store Link: Bobby Carrot 1 CLSX, $0.99