Touch Arcade had the chance to sit down with Freeverse at GDC and discuss two notable upcoming iPhone titles.  The publisher demonstrated the Paramout / Freeverse title  Top Gun and Flick NBA Basketball, an official NBA license.
Top Gun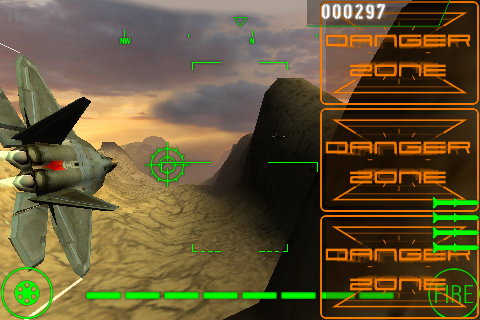 Top Gun, based on the 1986 movie, is a 3D aerial racing shooter in which the player takes the role of an Navy training recruit in the Top Gun flying ace program.  In the game, movie main characters Maverick and Iceman are instructors who lead the trainee through various flying scenarios, offering cutscene advice in a manner similar to the company's Days of Thunder.
The player uses accelerometer-based controls to pilot both an F-22 Raptor air superiority fighter and a B-2 Spirit stealth bomber through various training scenarios. The game features a number of flight environments, including desert canyons, the aircraft carrier USS Kittyhawk, cityscapes, and island chains–10 different environments in all.  And, while training is the mission at hand in all of these settings, as fate would have it, enemy migs have a tendency to intrude, and must be dealt with.
Features:
New texture format yielding increase in iPhone 3D performance
Normal mapping allowing for realistic and flexible lightsourcing / shadows
Time of day changes — real time lighting (shadow / sunlight / etc)
Ten environments including canyon settings, USS Kittyhawk (carrier), cityscapes, island chains, southwest terrains, etc.
Lock onto four enemies at a time
Weapons: vulcan cannon, sidewinder missiles
Ground-based anti-aircraft turrets
50 frames per second gameplay on 2G iPod touch
We spent some time with the title and found the game to be very impressive.  The 3D animation is glass smooth and the accelerometer controls are highly responsive and feel "just right."  Anyone who enjoys a quality non-simulation flying game is in for a treat.

[ Full HD version | Low Bandwidth version ]
Top Gun will be making it's App Store debut "very soon."
Flick NBA Basketball
An upcoming title of a different sort is the company's Flick NBA Basketball.  Not a full-court basketball title, Flick NBA Basketball is basically an iPhone adaptation of the All Star Challenge.  The player takes the role of a big name NBA player–the strongest player from every team is represented in realistic 3D models–and takes on various skill challenges such as the 3-point challenge, half-court long shot, ball spin, and horse (draw your moves on the court and watch it all played out in 3D).
While the 1.0 title will focus on shooting, Freeverse indicates that future updates will expand the title in various ways.
Flick NBA Basketball will be available in time for (or during) the playoffs, which begin April 19.