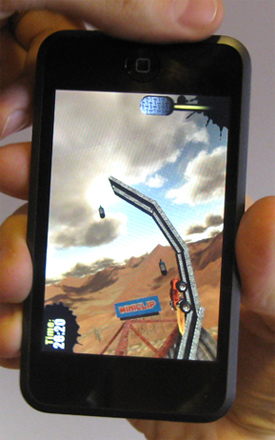 Finnish game development house RedLynx has just submitted their latest title to the App Store, a version of their popular PC and Mac game Monster Trucks Nitro for the iPhone and iPod touch.
RedLynx indicates that, while the game delivers all the playability of the PC and Mac original, it includes a new "Bubble Level" rotation control and many other new features unique to the iPhone and iPod touch.
The developer's feature list includes:
Real Monster Trucks physics with iPhone
Includes multiple camera modes including Holographic Pro camera mode
Extremely powerful RedLynx Monster Truck and Miniclip monster Trucks
Extra achievement Trucks Schoolbus Monster Truck and Formula Monster Truck
Thrilling tracks with medal achievements including The Loop, The Gap, Nitromus oximus and many others
Top hiscores lists for each track
Gesture camera controls
See RedLynx's iPhone game trailer video.
Monster Truck Nitro should be appearing in the App Store in the next few days and will be priced at $1.99.  In the meantime, see the playable 2D Flash demo and the free, trial 3D Windows demo on the product site.