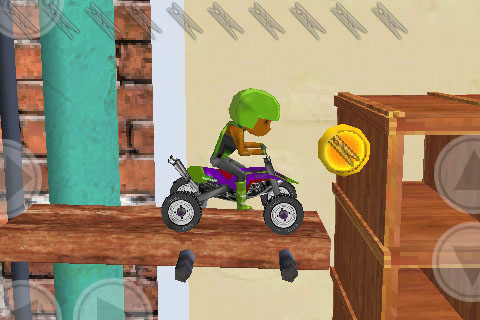 Fans of physics platformers may be interested to hear that Chillingo has published a new game called Space Bikers [App Store]which was developed by Mobirate.
Space Bikers is a 3D Platform Bike Simulation game in an enlarged world!

Your Space Biker has crash landed on Earth and it's your job to help get them back home to space! Guide your miniature character through various obstacles and puzzles to collect the parts for your damaged Spaceship.

Space Bikers uses an advanced physics engine just like in hit game Bike or Die 2 to maneuver your bike through the detailed levels you encounter, all with a country style music tracks to ride to! Watch the story unfold – will your Space Biker make it home?
The game is being offered for only $0.99 as an introductory price with the normal price of $2.99. This gameplay video shows how the game works. The point of each level is to collect the designated number of parts to repair your spaceship.
The game appears to come with 3 bikers and 5 levels each as well as a number of mini-games. More bikers and levels are planned as a future update.
Ongoing discussion thread about this new release in our forums.
App Store Link: Space Bikers, $0.99 (introductory price)