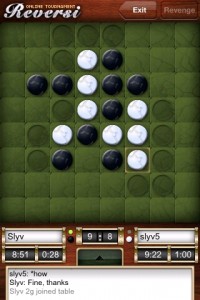 iPhone Clan has released an online multiplayer version of Reversi (Othello) appropriately titled Reversi Online Tournament [App Store].
Reversi Online Tournament is one of the first revolutionary online games that is designated to the iPhone/iPod Touch. Meet new people online or play against your friends. Gain points in a special online ranking system, one that rewards you for playing against stronger foes. Fight so that you can make the "Hall of Fame," a list of the top ten best players. You start off with a 1200 rating. How far will you get?
In an effort to build up their pool of players, they are offering their app for free for a limited time. The original price of the application was $2.99.
There aren't that many online players at the moment, but that should improve as more people try the app. We played a brief tournament and found the app to be well implemented and the online play worked well.
App Store Link: Reversi Online Tournament, Free (for limited time)