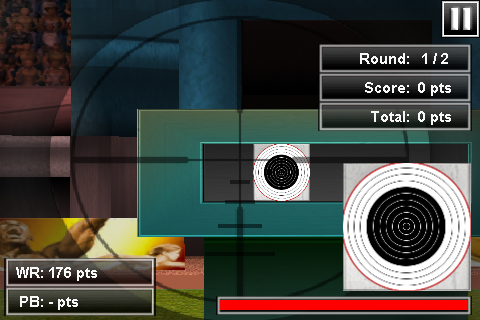 The Code Monkeys Ltd is a very long running game developer who has been around since 1988. Their extensive gaming library includes a number titles ranging from the Nintendo DS and PSP and reaching back into the PS2, Gameboy, Atari ST and even the Sinclair Timex. And now they've just released their first entry into the Apple iPhone with Triple Shot Sports [App Store]. The $2.99 game follows the style of their recent athletic titles. In this case, the focus is on shooting events. Specifically, the game offers archery, pistol shooting and free rifle.
The timing of their game release, however, may be a bit unfortunate with the release of a number of other "shooting" games. To their credit, they did not use the iPhone's tilt mechanism as the targeting. Instead a virtual joypad is used to take aim with your thumb at the target. This gameplay video shows the level of polish of the title. Note that while the video is without sound, the full game does have full sound effects, stadium music and audience sounds.
While the game's production quality is amongst the best we've seen on the iPhone, the actual gameplay is a quite simplistic (touch, aim, release) and repetitive. The game is also limited to the three shooting events which play rather similarly. As a result, we can't recommend this title unless you happen to be a huge fan of competitive shooting.
Still, we appreciate The Code Monkey's entry into the iPhone market and the quality of the production gives us hope for more traditional sporting titles in the future.
App Store Link: Triple Shot Sports, $2.99