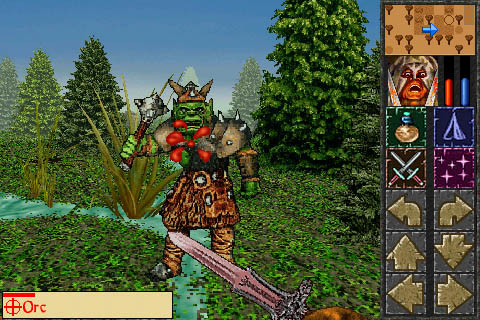 iPhone gamers are going to have a hard time keeping up. A number of anticipated gaming releases are being released in the coming days/weeks. Tonight The Quest [App Store] was released.
We covered the game just a couple of days ago.
THE QUEST is a graphically stunning, engaging and sinister world full of magic, music and provocative challenges.

Choose from five customizable races and an array of skills, attributes, weapons, armor and enchantments, then explore a huge non-linear realm of four different cities and a wilderness of mountains, caves, lakes and forests.

Play an absorbing card game, solve brain-teasing quests and clash with dangerous opponents in this turn- and skill-based role playing game.

You will have many choices, including some that may place you against the law, along your way to the dramatic end of your own choosing. You will need all your gaming know-how to survive and discover your destiny!
Old-school adventure gamers in particular may find this title appealing. The game has previously been available for Palm and Windows platforms. Reviews of those versions are available online:
Palm Addicts: "All in all The Quest is a wonderful gaming experience in the core meaning of the word wonderful – it is full of awes and wonders and is endowed with that rare ability to keep you ever curious and delighted, serving you gifts of delight and pleasurable surprises time and again throughout your playing experience"
The PDF manual for the PocketPC version is still available here (PDF). However, it appears to also be an accurate representation of the iPhone version if you are interested in the details of character creation and gameplay mechanics.
We'll try to provide a closer look at it in the near future but in the meanwhile our discussion thread should capture reader impressions.
App Store Link: The Quest, $5.99