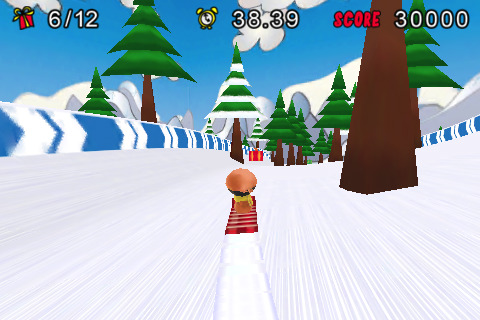 Imangi's first entry into the world of non-word games comes in the form of Little Red Sled [App Store], a rather charming 3D sled racer. We were able to spend a few days with the title before its release.
The game puts you in control of either Max or Maya who is hurtling down the mountain collecting gifts, jumping ramps and avoiding psychotic bunnies. Game controls involve using the iPhone accelerometer to steer your sled, pressing on screen to brake, and shaking your iPhone during a jump allows you to do a flip. Gifts and flips add to your score for a given track. There are 13 levels in all in the 1.0 version of Little Red Sled and the early levels introduce you to the different parts of the game. Each level has specific goals (minimum score, maximum time, or number of gifts) that must be reached in order to progress to later levels.
The game comes nicely polished with a distinct and charming style that is punctuated by the original piano track. The overall experience (visuals, music, and controls) "feels" very nice and you get a nice sense of momentum during the game. For these reasons it seems that many of the early adopters are having fun with it.
The levels, however, ramp rather slowly in difficulty as several of the earlier levels are simply tutorial levels. Meanwhile, the later levels (black diamond) can be very challenging requiring multiple attempts to pass. Unfortunately, with only 13 total levels, that leaves a relatively small number of intermediate levels to enjoy. And while you can try to surpass your previous goal records, I wish there was more incentive to replay prior levels.
The video shows a couple of levels. The main theme song (our favorite) is not featured in these levels but can be downloaded from Imangi's site.

[ Full HD version | Low Bandwidth version ]
So while we're not sure about long term playability, it's hard to knock it too much given its charm and measly $1.99 asking price.
App Store Link:: Little Red Sled, $1.99