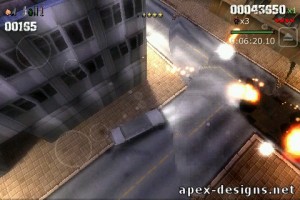 Apex Designs has reduced the price of their Grand Theft Auto-style action / role-playing title Payback to $4.99 in the App Store [link], down from $6.99.
Payback features dozens of vehicles and 11 cities to explore.  The player starts off each city on-foot and must get to a payphone to receive mission details.  At first, the player's only weapons are his fists, but crates scattered about the cities contain shotguns, grenades and other weapons that aid significantly in wreaking various flavors of havoc upon the cities' inhabitants.
The developer indicates that v1.1 of the game will arrive soon, bringing the following enhancements:
Much improved minimap
Easy way to restart missions
Built-in instructions
Optional new camera angle
Support for different device orientations for more comfortable use on the iPod touch
Bug fixes
Lots of other tweaks
See the gameplay video that accompanied our Payback review.

[ Full HD version | Low Bandwidth version ]
App Store Link: Payback, $4.99