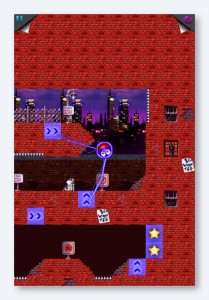 HD Publishing has recently released the iPhone version of Magnetic Joe [App Store] to the App Store. Magnetic Joe started out as a mobile phone game a few years ago and even won Mobile Game FAQS' Best Casual Game of 2006 award.
In an effort to establish themselves on the platform, the developers have released Magnetic Joe for the iPhone as a free game.
Magnetic Joe – iPhone is not a demo, it is a full version game that you can now get for FREE. For free, because we would like to introduce this fabulous title to the proud iPhone owners and then soon bring you the second and the third part as well.
The gameplay is essentially an inertia game in which you most control the path of "Joe" while avoiding the obstacles. But instead of rocket thrusters, you influence the movement by strategically activating Joe's magnetic abilities. Simply tap on the screen to turn it on, and the magnets will do the rest. You have to be strategic, however, to avoid hitting unwanted obstacles (such as spikes).
The game is quite fun and provides 40 levels of play. The graphics are a bit primitive and show their roots as a mobile game, but it's hard to complain for such a fun and free game.
Magnetic Joe 2, of course, is in the works and is expected in April of 2009. It will offer 100 levels, unlockables, 3 game modes, interactive obstacles and an online hall of fame.
This is video of the non-iPhone version of Magnetic Joe, but since it's free you may as well try it out for yourself.
App Store Link: Magnetic Joe, Free.