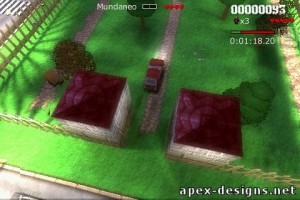 As we reported a few weeks back, Grand Theft Auto-like Payback for the iPhone launched through the App Store…and then was pulled due to a notable bug.
Unfortunately, a significant bug has come to light in the iPhone/iPod Touch version of Payback. Due to the way the iPhone SDK works we cannot test the final build of the game we send to Apple and the issue in question only occurs in an App Store build. After careful consideration, we have decided to temporarily withdraw the game from sale until an update is ready – hopefully this won't take long, depending mainly on how long it takes Apple to approve it. No one is more upset about this than we are, and we humbly apologise to those who were waiting on the game and hope you will stick with us as we work to resolve this issue.
Happily, Apex Designs has just informed us that Payback will see a worldwide (re)release on January 28th.  As Apex describes it,
It's a pretty big game by iPhone standards – full voice and music soundtrack, 11 huge cities to explore, stunning HDR lighting, insane attention to detail and a general level of slickness you don't find on many iPhone titles.
See a video of the GP2X mobile version for a better look.
Stay tuned for a full review of Payback when it makes its (final) App Store debut.