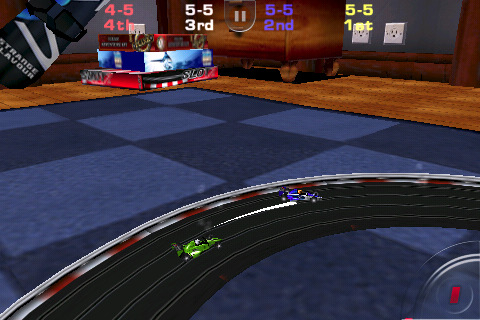 Freeverse's Slotz Racer [App Store] has appeared within the App Store tonight. The game is a throwback to the slot car racers of the '70s and '80s but should provide a great experience for all comers.
The ultimate slot car racing game for your iPhone and iPod touch. Relive those great childhood memories of building tracks, burning rubber, and racing with your friends and family!
We've been tracking this game for some time and were able to get some hands on time with it at Macworld. The game offers a very full featured gaming experience complete with a track editor. The first thing I noted with my brief time with the game is how good a feel it had. See this gameplay video:
Track editor:
Early reactions in our forums are also very positive.
Freeverse is offering the game for only $0.99 for the first 72 hours and then it goes up to the regular price of $2.99. Even with our brief time with the game, we feel it's easily worth the initial $0.99 introductory price.
Other features:
4 person race on the same iPhone
Track editor
Unlockable circuits, cars, track locations and championship challenges
App Store Link: Slotz Racer, $0.99 for 72 hours