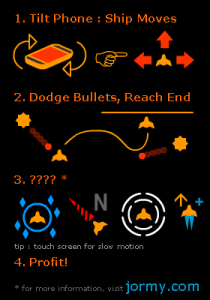 iPhone developer Yose Widjaja recently contacted us about his upcoming iPhone game called Space Ninja which offers an interesting looking space shooter — but without the shooting.
The game is shown in this YouTube video and shows an accelerometer controlled vertical scroller in which you must navigate around bullets and shurikens. Fortunately flying over the turrets, themselves, won't kill you.
The game offers some unique power-ups which can be triggered to help your way through the game. The 7 power ups include two bombs, a rotating lance, speed boost, repulsor / freezer and autosensor. The use of slow motion / "bullet time" allows you to navigate seemingly impossible fields of enemy fire. Sessions can be saved and played back.
While originally planned for a December release, it has been pushed into early January and should be available shortly.