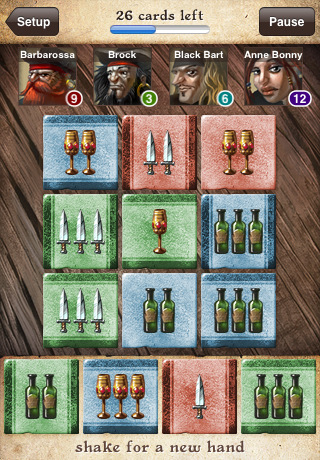 One unique matching game just went on sale to the affordable price of "Free" until January 1st.
The game is called Crossbones [App Store] and is a matching game that also includes online multiplayer capabilities.
As a player, you are given 4 tiles in your hand and there are 9 community tiles.
Each tile is made up of 4 different components: color, object, pattern, and number of objects. Three cards can be match from any combination of community tiles or hand tiles. "Matching" consists of the following:
Three cards make a match if, for each property, the cards are either identical in value or completely different in value
Tutorial pages from the game itself (page one, two, three) may help explain the game a little better.
The game is more complicated than it seems at first glance, but with the overall polish and online play, it's certainly worth a try while it's available for free. Developer video shows the game in action:
App Store Link: Crossbones, Free until Jan 1