Veteran mobile games developer Handheld Games Corp. has recently released TouchSports Tennis '09 [App Store] for the iPhone and iPod touch.
Right off, we want to indicate that TouchSports Tennis really is a "console quality" sports title.  It looks and feels much more like something you'd expect to see on a Sony PSP than most of the sports titles in the App Store.  The 3D court environment and players move smoothly and fluidly in a manner reminiscent of Wii Sports' tennis, but with realistic rather than cartoonish graphics.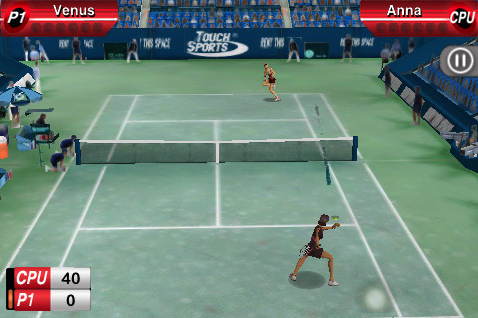 TouchSports Tennis features a combination of touchscreen and accelerometer controls that takes a little bit of getting used to, but ultimately offers a solid interface to the on-screen action. The player always controls the near-side, on-screen character.  Serving involves a single tap which brings up a power bar that increases in strength until it's tapped a second time, triggering a serve.  A tap anywhere on the player's side of the court sends the character running to that location.  The on-screen character automatically swings when a ball passes within her vicinity.  Tilting the iPhone left or right at the moment of swing determines the shot angle.  The control system works very well but my main criticism is that regardless of how hard the iPhone is tilted, the ball won't land out of bounds.  That's a little too much of a "gimme."  Eurocenter's more recent release, Ace Tennis Online [App Store], offers similar gameplay but with the potential for out of bounds shots, albeit in cartoonish, 2D graphics.
TouchSports Tennis offers two play modes: Quick Play and Tournament.  Quick Play, as named, places you directly in a game with a pre-chosen character.  Tournament mode lets you examine the various players' attributes and choose your character as well as your opponent for the match.
We have spoken with CEO Thomas Fessler regarding complaints from certain users that the game will not launch on their devices.  He informs us that TouchSports Tennis will not, in its current version, function properly on jailbroken iPhones.  A number of App Store reviewers have panned the game on these grounds.  We feel that, as it is an official App Store release, one really can't legitimately take the developer to task for issues on jailbroken devices.  As such, we do not consider the current jailbreak incompatibility to be a shortcoming.
The combination of solid controls, impressive 3D visuals, and atmospheric court and crowd sounds makes for a very enjoyable game of mobile tennis.  It's a fun game that's engaging to play.  Tennis fans would do well to have a look at $4.99 TouchSports Tennis '09.  We are anxious to see what other sports titles are in store from Handheld Games Corp.
The developer is readying an updated version that will debut shortly and feature:
Increased frame rate on older hardware
Improvements to ball physics
Enhanced Player A/I
BugFixes to handling of message events
Interface adjustment and tweaks
Game announcer localized to French
Handheld Games Corp's development team has created games for a vast array of mobile devices dating all the way back to the Atari Lynx, Gameboy Color, Sega GameGear, and GAME.COM.  They are no strangers to tackling the limitations of pocketable game devices.
Our engineers embrace Assembly language, our artists think and dream in limited palettes, our musicians can perform awesome compilations in less than two channels of audio, and our designers enjoy pushing the envelopes of game play in the environment defined by the platforms we develop for.
We're glad to see that, as evidenced by TouchSports Tennis, even on a modern device as capable as the iPhone, they're still pushing the limits.
Game Details

Name:

TouchSports Tennis (v1.0)

Price:

$4.99 [Buy]

Developer:

Handheld Games Corp.

Size:

6.1 MB
TouchSports Tennis is one of the most realistic sports titles available in the App Store.  It has impressive 3D visuals and solid, though rather simplistic, control system.