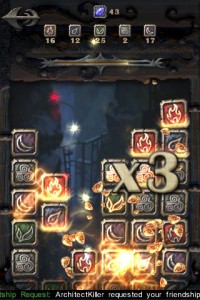 Danielle Cassley and Jason Citron's sequel to their popular game Aurora Feint has been released to the App Store. Aurora Feint II: The Arena brings multi-player online action to the puzzle game. Features include:
Real-time asynchronous player vs. player dueling
Continuous personal news feed
A thriving multi-player community
Powerful new character classes
Player profiles with walls
Friend and global leaderboards
Amazingly beautiful artwork and particle effects
We previously detailed the unique asynchronous play in which you leave "ghost sessions" on the server for others to challenge.
The game is on sale for an introductory price of $7.99 through Christmas with a regular price of $9.99.
App Store Link: Aurora Feint II: The Arena, $7.99