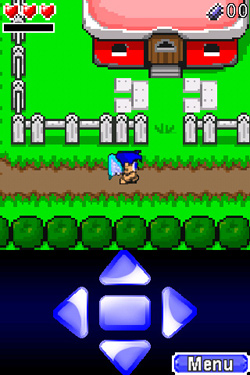 DVide Arts Inc. has just released an iPhone version of its popular mobile adventure game Angel Sword [App Store] through the iTunes App Store.
Once upon a time, in a land of magic, two wizards ruled in peace. The legend says that the Red Wizard unlocked the power of the Sword of Angels, a blade forged by the gods using good and evil magic. Over time, the power of the sword filled the Red Wizard with darkness. In order to stop the Red Wizard, a guardian angel was summoned using the power of light. Now you must guide this hero on the path to recover the Sword of Angels and restore peace through out the land. Prepare to battle demons, solve mysteries, and travel across two major lands in search of the legendary Angel Sword.
Angel Sword is a Zelda-like adventure both in gameplay and appearance.  Although not actually a retro title, it looks like one, likely due to the lowest common denominator of the smartphone platforms the game supports.  The main character is controlled via an on-screen button rose and by way of other contextual pop-up buttons.  A simple musical score accompanies gameplay.
Features listed by the developer:
Interactive game characters with in depth stories
Re-playable interactive alternate endings
Challenging animated enemies
Auto save your game progress
Save up to 3 unique games
Submit your game online after completion
Full color graphics and animation
Music and Sound Effects with mute sound option
Easy to use interface with on screen instruction buttons
App Store Link: Angel Sword, $4.99