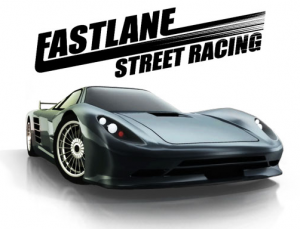 iPhone developer ATOD AB has recently released Fastlane Street Racing [App Store], a Ridge Racer-style racing game that has generated much commentary–most of it rather positive–in the App Store user reviews and our forums since its release.
The first thing that hits you about Fastlane is the game's graphics quality.  Fastlane is the best looking iPhone racer, hands down.  What's more, the game runs at a decent framerate and experiences very few slow-downs.  Of course, you're racing only three other vehicles and the on-road traffic is at a bare minimum, but still–it's a lovely looking game.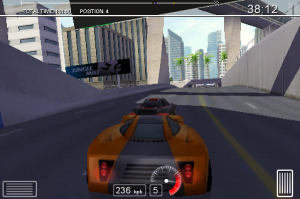 So how does it play?  Let's first take a look at the game modes.  Fastlane has three racing modes: Arcade, Time Trial, and Challenge.  Arcade mode involves racing from checkpoint to checkpoint and completing the course before the timer runs out.  Successfully completing courses unlocks new ones–there are 12 in all.  Time Trial mode is a race against pre-recorded times–race against a pace car or against your own best time.  Challenge mode presents the racer with various goals to achieve in order to move to the next course: complete the route within the time limit without touching the walls more than twice, overtake the other car before it passes the finish line, etc.  While there has been some outcry due to Fastlane's lack of a "career mode," I personally am pleased by its absence.  The time constraints surrounding typical gameplay on a mobile device (vs. a home console or desktop) make full blown career modes (winning money in races to buy upgrades, garages, homes, etc.) impractical.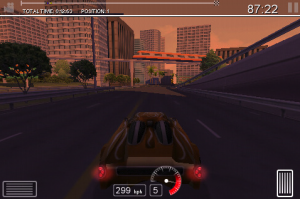 And controls?  Well, there are many opinions on this in our forums.  Some call the game too difficult, indicating that the accelerometer controls are unforgiving and serious corners are impossible to negotiate.  Here's the thing about this game, though: mastering the technique of drifting is a prerequisite.  Each of the game's 10 vehicles feature different driving characteristics and finding the perfect drifter for your particular driving style is critical.  If you can't master drifting, then this game is not for you.  That may seem like a tall order or a particular negative, but the thing is, Fastlane's drifting feels much more "realistic" than does the seemingly on-rails drifting exhibited in the latest console versions of Ridge Racer.  So, take the time to learn to drift and the game's controls are in the palm of your hand.  Have a look at ATOD AB's tips page for some technique suggestions.
Fastlane includes a gameplay musical score along with well done sound effects.  If a song is playing from the iPhone's song library at game launch, Fastlane's sound effects will overlay it.  Hats off for that, ATOD AB.
All said, Fastlane Street Racing is the best iPhone racer in terms of graphics, racing challenge, and overall gameplay.  More and more, iPhone App Store releases are resembling high-end Nintendo DS and Sony PSP hits.  Fastlane Street Racing is a fine example.  Racing fans willing to tackle the learning curve will find this $5.99 title well worth the price.
Game Details

Name:

Fastlane Street Racing (v1.0)

Price:

$5.99 [Buy]

Developer:

ATOD AB

Size:

22.3 MB
Fastlane Street Racing is presently the best looking, best playing racing game in the App Store.  This Ridge Racer-style game relies heavily upon drifting, however.  Learning the controls takes time and patience, but there is a reward to be found for those who stick with it.